SommTalks
SommTalks: Pablo Dotta
Uruguayan sommelier Pablo Dotta is Chef Sommelier at Spoon2 in Paris, one of the contemporary kitchens of renowned French chef Alain Ducasse. Ducasse is one of the few chefs in the world to hold three Michelin stars and wine is always an important element to the menu at his restaurants around the world.
Amanda Barnes interviews Pablo Dotta about his experience of pairing Uruguayan wines with French cuisine and what he believes makes Uruguayan wine unique.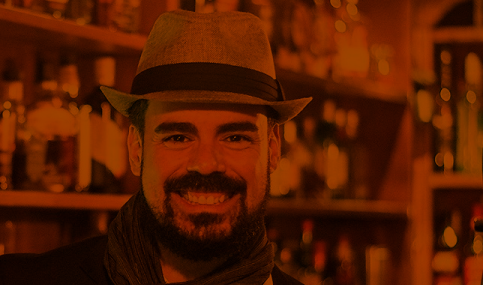 AB: What interests or excites you about Uruguayan wine at the moment?
PD: Undoubtedly the most exciting thing about Uruguayan wine is its capacity to satisfy specific market niches. The small production in Uruguay doesn't allow for anything else, and although that may seem like a disadvantage, I believe it is a very positive thing.
"People look for different wines with a story behind, and Uruguay has this."
— PABLO DOTTA

AB: Following your international experience as as sommelier, how do you see Uruguayan wine working in a gastronomy setting?
PD: We are at a time when the borders of pairing are no longer as strict as they were a few years ago and people try combinations that once seemed impossible. There is no doubt that the flagship variety of Uruguay, Tannat, works wonders with the most typical food from Uruguay, such as asado (Uruguayan BBQ) and red meats, but it also works with dishes like pasta for example.
For more subtle dishes with earthy flavours, Uruguay also has some great Pinot Noir wines that can give a complete gastronomic experience, at a much more reasonable price than Burgundy. The potential of Sauvignon Blanc in Uruguay is also enormous and can work as an aperitif through to the main course.
AB: What are you looking for when you select a wine for your wine list?
PD: The particularity of the restaurant where I work, Spoon2, is that we have a wine list with a strong international presence. We have 29 countries on our wine list and French wines represent less than 10% of it.
I'm always looking for wine from countries which aren't on the wine list yet, and I'm looking for varieties that are emblematic in that country and, of course, of indisputable quality. Then comes the theme of taste, which is the most difficult territory of our profession, but perhaps the most beautiful challenge. [Being a sommelier is about] understanding the taste of the diner and give them an option that completes their tasting experience.
AB: Are your customers ever surprised at the experience of tasting a Uruguayan wine?
PD: Yes, all the time. In some cases they don't even know that Uruguay makes wines! Among the Uruguayan options I have on the wine list at the restaurant, our Pinot Noir is undoubtedly the most surprising. It often gets compared to Burgundy, and the price seems very reasonable. Uruguayan Tannat also gets a lot of praise, because here in France when consumers think of Tannat they think of Madiran or Iroleguy, which are very —and I mean very— tannic wines that require at least a decade in bottle to be really enjoyable. However today, with a Uruguayan Tannat, I can serve a 2016 or 2018 in the restaurant without any problem.
"Uruguayan Pinot Noir is undoubtedly the most surprising. It often gets compared to Burgundy, and the price seems very reasonable. Uruguayan Tannat also gets a lot of praise."
— PABLO DOTTA

AB: Are there any Uruguayan wine styles or varieties which you think have good potential in the French market?
PD: While it is true that the French consumer is very nationalistic and will mostly ask for a wine from their country, there are more and more people looking to discover new wines. Uruguay still has a lot of ground to cover in terms of communicating Tannat as its flagship grape, just as Argentina did with Malbec or Chile with Carménère.
Other grapes I believe have potential include Pinot Noir (for its amazing value) and Sauvignon Blanc (as a very food worthy wine).
AB: What do you think makes Uruguayan wine unique in the world?
PD: The shops are full of photocopied wines (whether of high quality or not), without any story. However, Uruguay has a large proportion of family wineries and the stories of each are unique. Uruguayan wines have the hearts of people who love making wine behind them. The close presence of the owners throughout the process is another aspect which is worth sharing. Uruguay's wines are niche and exclusive.
SPOON2
Palais Brongniart
25 place de la bourse
75002 Paris 
www.spoon-restaurant.com