Uruguay Wine
Bodega Garzón: New World Winery of the Year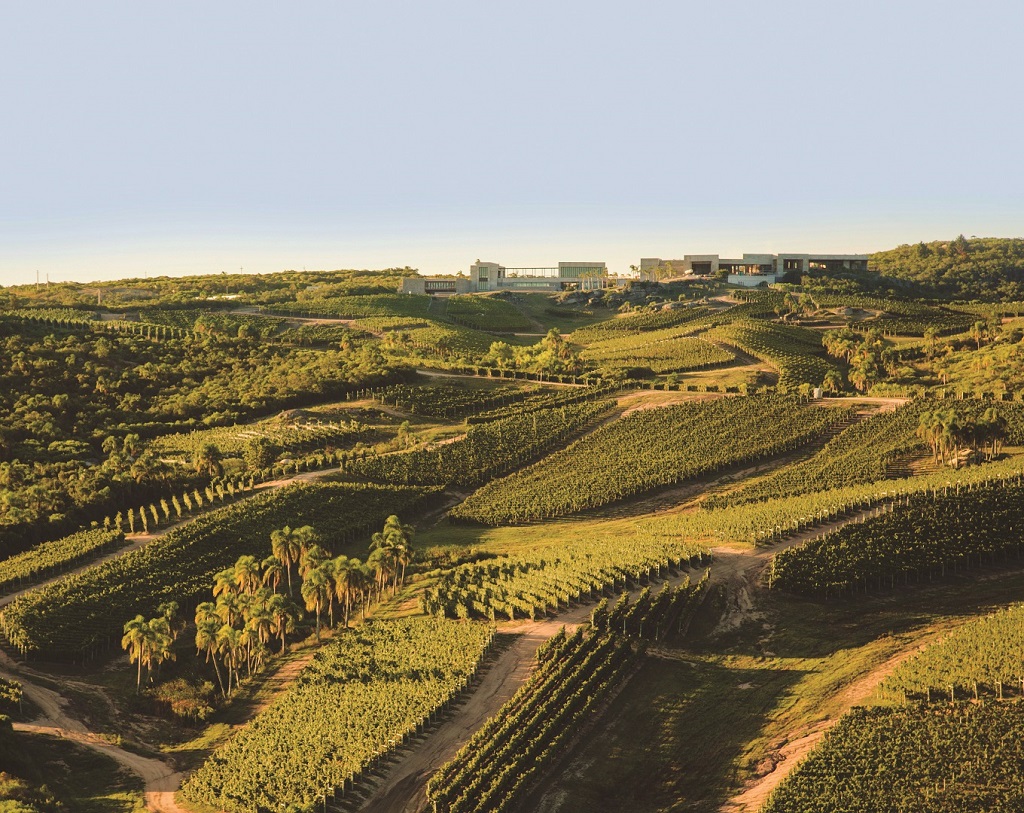 Towards the end of last year, Bodega Garzón in Maldonado was chosen as Wine Enthusiast's New World Winery of the Year, putting Uruguay firmly on the wine map as a wine country on the rise.
One of the glitziest wine awards ceremonies of the year, the Wine Star Awards by Wine Enthusiast magazine are highly respected internationally and this was the first time a Uruguayan winery was given such a recognition on the global stage. All the more impressive is that Bodega Garzón is a relatively young winery in Uruguay - with its first vines planted just a decade ago in 2008.
Today Garzón has some 238 hectares of vines planted, separated into over 1,200 plots, and became Uruguay's biggest exporter of wines last year - with its wines reaching over 35 countries worldwide.
Amanda Barnes interviews the Managing Director of Bodega Garzón, Christian Wylie, about the award and Garzón's growing success.

AB: Tell us about receiving the news of the nomination and award from Wine Enthusiast.
CW: It was huge just to be nominated and it was historical for Uruguay. I don't think there was much understanding of the magnitude here in Uruguay at the time. I had been through it before with Santa Carolina in Chile [Best New World Winery in 2015] when I worked there, and I had seen the impact of the brand on the winery. And for Garzón the impact has been ten fold because no one really knows Uruguay, and it's huge statement for a Uruguayan winery to win.
Normally the New World Winery of the Year has a track record for many years, and the names of the other previous winners and other nominees are impressive. When we got the news we actually won, it was a huge boost to the morale and a big payback for all the effort that has gone into growing vines here.
It was also super humbling to win because now we have this huge responsibility to thrive for excellence and pay even more attention to where we place our wines and our strategy. It was a great honour and I think it was huge for Uruguay too.

AB: As you mentioned, you were also Commercial Director of Santa Carolina in Chile when they won the award. Is there any secret to running a successful winery?
CW: You have to love what you are doing. It's the only way. It's a simple philosophy, but if you love what you are doing then you'll get the energy, the passion and the dedication.
You also have to believe in the project. I've always worked for families because they bring a long term commitment to the business. My last day at Santa Carolina was receiving this Wine Enthusiast award, and I never thought it would happen so soon here.
One thing I learnt in rugby when I used to play is that you are only as good as your team. I have a really strong team here who all excel in their areas - everyone has that passion and 100% commitment. That's what builds the essence of a good team.

AB: What makes Garzón a New World winery in your mind?
CW: Technically we are in the New World. We have a New World terroir, a 21st century terroir. Although our wines taste more European than the other New World desert climates.
Uruguay has a more humid, Atlantic terroir and in Garzón we have this mineral character from the granite soils. Our wine style is very drinkable with nice acidity and offers a bridge between Old World and New World.
I think our approach to the market is New World though. We go out there and take a hands on selling approach! We go to the market and turn every stone to find someone who wants to buy our wine from Uruguay. It's tough to compete with Bordeaux or Burgundy, and your approach has to be different.
"Being part of the New World is also showing your essence. When people come here, they say 'I've never seen something like this'."
- CHRISTIAN WYLIE
And then you take them sailing or to Cabo Polonio on the beach. Or to Montevideo, which is a really cool city. If someone comes to Bodega Garzón, they are going to spend at least a couple days getting to see and meet the culture of Uruguay too.
AB: The owner, Alejandro Bulgheroni, has several wine estates around the world. What makes Garzón in Uruguay stand out?
CW: Don Alejandro has 25 estates around the world, and it's never a dull moment to be part of that! With estates in Tuscany, Napa and Bordeaux, some of them were sur prised he was also going to be making wines in Uruguay. But today Garzón is the shining star and that's fantastic.
"What shines brightest in the whole portfolio is a Tannat from Uruguay, not necessarily our wines from the Piedmont or Napa. People are talking about Tannat,
and that's remarkable."
- CHRISTIAN WYLIE
It's also remarkable because the best of Garzón is still yet to come… 2018 was an incredible vintage for Uruguay and our wines are already in the Place de Bordeaux but the vines are still just six years old.
As Alberto Antonini [the consultant winemaker] says, today the vines are eating in Burger King and in a few years time they will be eating in Michelin star restaurants! Some of the vineyards are still finding their balance, and, as the roots grow deeper, we definitely believe the best of Garzòn is yet to come!
And the more attention Uruguay gets from the world in discovering this amazing country, the more it will rise the tide and bring everyone up. There is tremendous talent and commitment in Uruguay. Uruguayans don't overpromise, but they certainly overdeliver.

BODEGA GARZÓN
www.bodegagarzon.com