Uruguay Wine
Stories to listen: The story behind Uruguay Wine's playlists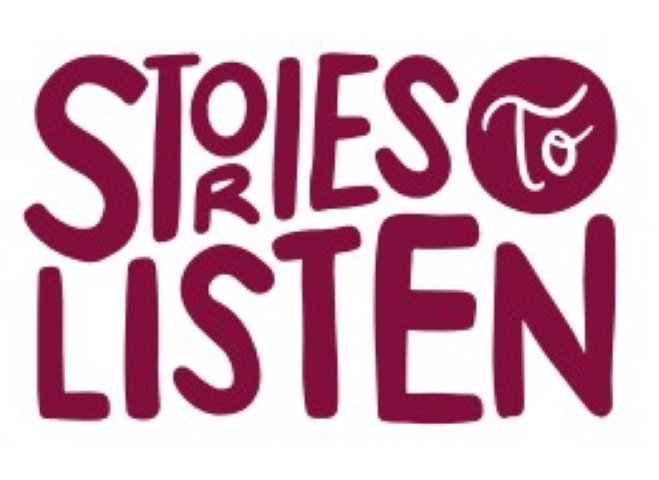 Wine is all about the experience. A great wine experience isn't only remembered by the taste of the wine, but also the taste of the food you enjoyed it with, the memory of the friends you spent that time with, the view you were beholding, or even the music you were listening to. The soundtrack to your wine experience can offer another dimension to your enjoyment, which is why Uruguay.Wine created specially curated playlists to accompany your next Uruguayan wine moment or tasting. 
In order to create an authentic and unique music experience, the playlists were curated by female DJs who are part of the Ronda de Mujeres. The Ronda de Mujeres is an association of Uruguayan women that aims to make female Uruguayan musical talent visible and create female-friendly cultural spaces for musical expression and freedom. Since its foundation in 2002, Ronda de Mujeres has helped promote, mentor and develop the careers of over 330 female Uruguayan musicians.
To explore the relationship between music and wine, the Ronda de Mujeres - under the guidance of Uruguayan DJs Paula Drexler, Sofía Bastos and Sofía Supervielle - put together three playlists to explore the sounds of Uruguay while enjoying the wines of Uruguay:
This eclectic mix is a selection inspired by the sensation of drinking Uruguayan wine while watching the sun set over the country's famously beautiful coastline. With a chilled out dance vibe, the playlist includes songs by Uruguayan and international artists and DJs and is ideal for enjoying on summer evenings with a chilled glass of Uruguayan Albariño, Sauvignon Blanc or rosé!
Some of the highlights include Uruguayan artists Mux, Luciano Supervielle, Isla Panorama and Juan Campodónico. "The sophisticated and relaxed sunsets of Uruguay's east coast is what inspired this selection," explains DJ Sofía Supervielle who curated the list. "It creates a chilled mood that sets the tone for talking with friends while drinking wine!"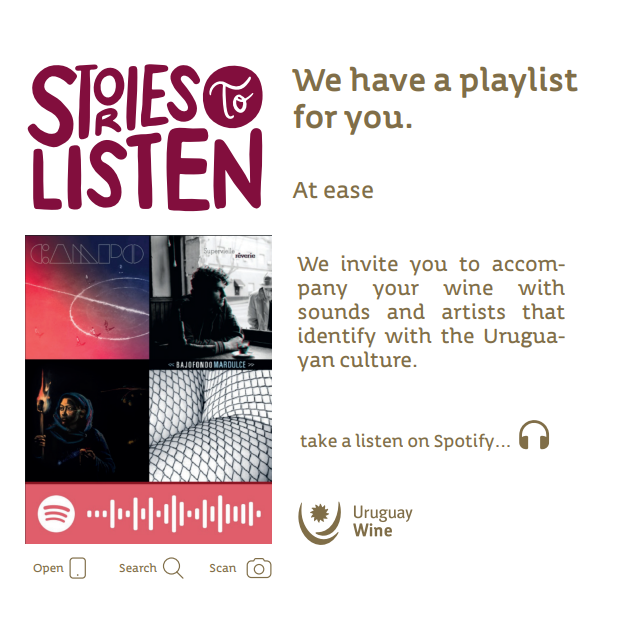 Channelling Uruguay's rich musical heritage, this playlist by DJ Paula Drexler incorporates some of the timeless sounds of tango, candome and folk, among other Uruguayan musical genres including altertango.
As well as local artists, the playlists includes some international artists who have been inspired by the Uruguayan musical heritage. This is definitely a playlist to while deep in conversation or by watching the flames of a warming fireplace while enjoying a glass of nuanced Uruguayan Tannat.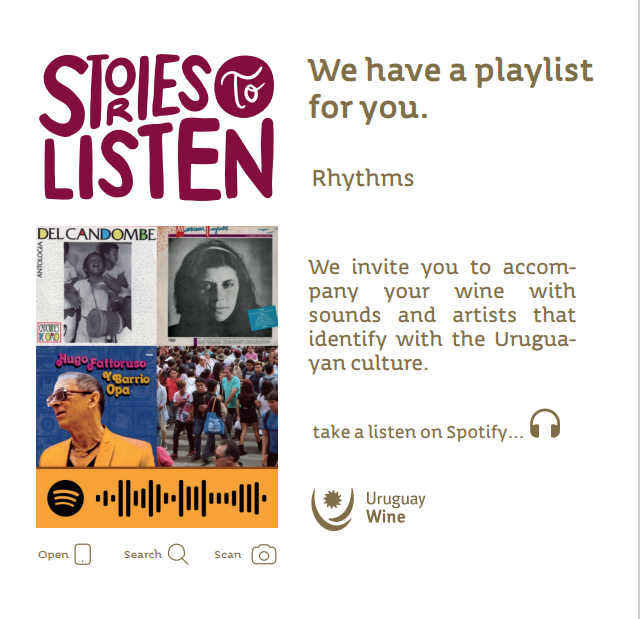 The party playlist. Rhythms is designed to make you wiggle to the irresistible beat of Uruguayan and Latin America sounds, including Candombe and Brazilian-fusion electronica, all selected by DJ Sofía Bastos.
Highlights include the funky beats of Jorge Graf, the upbeat sounds of Rubén Rada and the seductive soundscape of Jorge Drexler. Enjoy with some of the lighter or spicier red wines of Uruguay — Pinot Noir, Marselan, or Cabernet Franc perhaps — while dancing around your kitchen cooking or at a party with friends.