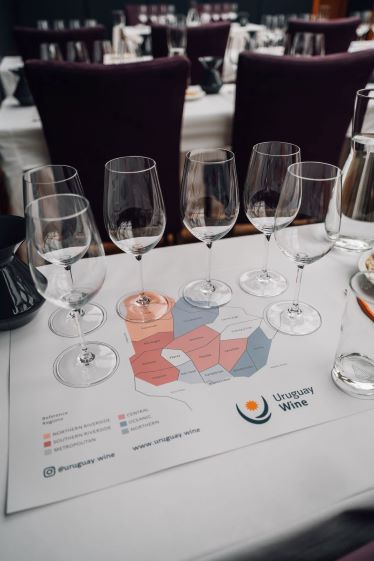 Uruguay presents biggest and most diverse tasting to UK trade
Uruguay's wineries presented the biggest and most diverse tasting of Uruguayan wine to the UK trade to date, with a solo trade show at the prestigious venue of 67 Pall Mall.
Eighteen wineries presented over 100 different wines from around the country throughout a day of special masterclasses and tastings for the most important trade in the UK, including Masters of Wine, leading sommeliers, buyers and journalists.
In the morning a special masterclass for importers, buyers and sommeliers was hosted by wine writer Amanda Barnes presenting the great diversity of Uruguayan wine styles and regions. 
This was followed by an exclusive lunch and tasting for some of the nation's most important figures in journalism: Julia Harding MW, writer at JancisRobinson.com; Julie Sheppard, editor of Decanter; Patrick Schmitt MW, editor of The Drinks Business; Andrew Catchpole, editor of Harpers; Margaret Rand, writer at World of Fine Wine; Fiona Beckett, drinks columnist at The Guardian; and Geoffrey Dean, writer at The Buyer. 
In the afternoon, there was a walkaround trade tasting in which a further 60 guests from the trade came to taste wines and network with the producers. The afternoon tasting was also accompanied by music played by a trio of Uruguayan musicians which included candombe, murga and tango. 
"We had an overwhelmingly positive response from the trade in the UK, and the event was sold weeks before," explains Barnes. "There is clearly a great thirst to learn more about Uruguayan wine, and I think Uruguay is poised for greater recognition in the UK market. The quality of Uruguay's wines is better than ever and I think this great quality as well as the impressive diversity of wines — from white and orange to red and sparkling — really shone through at the tastings."
The event was held at the prestigious 67 Pall Mall, a private members club which unites wine enthusiasts and collectors from around the world. With the founding club in the heart of London's historic Westminster district, it also has clubs in Burgundy, Switzerland and Singapore. Barnes will also be hosting an exclusive masterclass for 50 members of the club on Uruguayan wine the evening of Tuesday 28th March.
Wineries present in the trade tasting included: Artesana, Bohemian by Fiore, Viña Progreso, Bouza, Braccobosca, Cerro Chapeu, Cerro del Toro, Familia Deicas, Giménez Méndez, Pisano, Pizzorno, Brisas, Garzón, Alto de la Ballena, Proyecto Nakkal, Pablo Fallabrino, Compañía Uruguaya de Vinos de Mar and Familia Traversa.