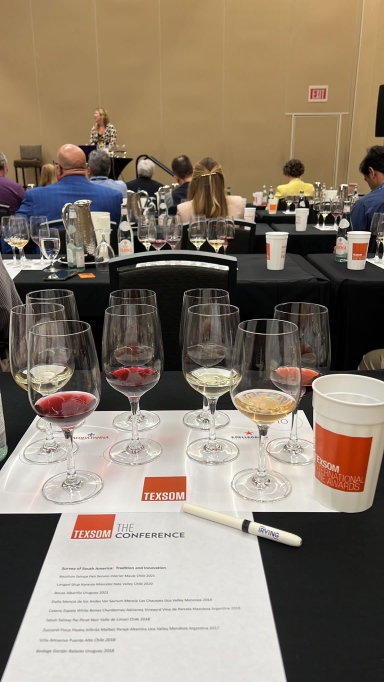 TEXSOM 2022
From August 28th to 30th at the Irving Convention Center in Las Colinas, Texas; the Texsom Conference was held. This event is held once a year, bringing together the most outstanding sommeliers in the world of wine.
Uruguay Wine together with seven Uruguayan wineries: Bouza, Cerro Chapeu, Deicas, Garzón, Viña Progreso, Alto de la Ballena and Familia Traversa; represented our country in said event.
The prestigious Uruguayan wines were present at the lunch for 80 people on Monday August 29th of the conference, on this occasion the presentation of Uruguay was in charge of the renowned writer and wine influencer Amanda Barnes, who specializes in writing about the regions wine and tourist destinations in the region; She is the author of the South American Wine Guide.
During the night of Monday, August 29th , the "Sommer Camp Polishing Event" was held, an event for polishing cups and preparation for the conference for the following day. Space where you can taste wines and spend quality time with up to 100 of the most influential people in the industry, while polishing the glasses for the conference. Uruguay Wine and the wineries shared a pleasant and informal meeting with the sommeliers where they tasted the wines together with a delicious catering selected by Uruguay Wine.
An enriching experience for wineries that continue to expand their presence in the American market.