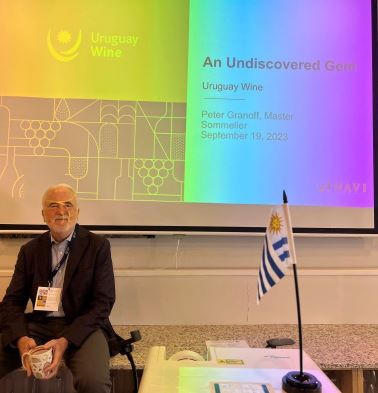 Tour EE.UU 2023
In September, the annual commercial tour of the United States took place, which included the city of Boston, Massachusetts and New York.
On 19th September at the Commonwealth Wine School in Boston, two Masterclasses were held, one of them focused on trade (importers, on-trade and off-trade, sommeliers and press) and another that could only be attended by students or graduates of the school. Commonwealth Wine School offers wine education of the highest quality. They are also the providers in Boston of programs approved by the Wine and Spirit Education Trust, Wine Scholar Guild and The Society of Wine Educators. On this occasion, a total of 8 wineries participated, with a specially curated selection of wines selected by all parties involved in the organization. Around 40 guests attended each event.
In New York on 20th and 21st September, two Masterclasses were held, as in Boston. The first was held at the International Wine Center of New York, which receives around 1,000 students annually. Their mission is to promote independent study and the responsible enjoyment of wines and spirits. More than 390 people who studied at the International Wine Center have received the WSET Diploma in Wines and Spirits, including 16 people who are now Masters of Wine. This opportunity was extremely special for Uruguay, as IWC offered this class to its level 4+ students and educators. It was the first time that a class was taught on a region that does not appear in the WSET study books.
11 wineries participated, presenting their wines, with the Center's condition that the wines could only be presented by their winemakers or establishment owners. It was an extremely enriching experience for Uruguay, where attendees discovered the country and its wines for more than 2 hours, making consultations and exchanging knowledge with the producers. The second New York Masterclass was held for trade and press at the Jay Conference Bryant Park Center and was attended by nearly 30 high-level guests.
The Masterclasses were chaired by Master Sommelier Peter Granoff, who is highly connected within the trade and is a respected MS. In addition to having his own store in California. The theme on which all the Masterclasses (Boston and New York) were focused was "Unexpected Uruguay": This tiny South American country is justifiably recognized by its brand (and leader) Tannat. But did you know that it is increasingly known for Albariño, amphora wines, pet nats and much more? Join Master Sommelier Peter Granoff and immerse yourself in an evolving Uruguay: unique... and unexpected.