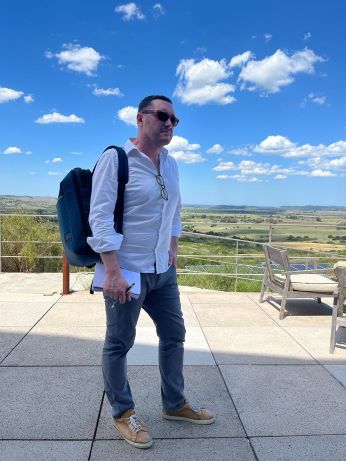 Terre de Vins Magazine's Visit
On February 25, the French journalist with more than 10 years of experience in the media, Mr. Mathieu Doumenge, from Terre de Vins magazine, arrived in Uruguay. Leading media in its sector specializing in wines, spirits, wine tourism and lifestyle in France. Terre de Vins's mission is to inform and connect wine establishments with consumers and actors related to the world of wine, having its origin in Bordeaux.
On this occasion, Mr. Doumenge made a seven-day tour of three different wine regions (South Coast, Metropolitan and Oceanic) and his wineries. With the bonus of visiting the country in full harvest, he had the opportunity to delve into the different processes of making national wines, discover the diversity of vines planted in our country, chat with oenologists and viticulturists, as well as learn about wine tourism proposals, Uruguayan gastronomy and customs.
"I learned so much about the terroirs, the landscapes, the lifestyle, the history, the geography and the people, that even though I visited 15 wineries, I surely felt short in time at the end of the week. I wish I could have stayed longer and been keeping learning" Doumenge commented after his departure.
Due to its origin, a town very close to Madiran, France; Mathieu expressed curiosity about the Uruguayan Tannat: how it came to the country, why it was chosen and continues to be chosen when it comes to planting, what makes the country so similar to its region of origin, among other questions with which he arrived. Uruguay's flagship red grape variety is part of his culture, his family and his passion for wine.
In 2019, Doumenge had its first encounter with the Uruguayan Tannat wine at the Vinexpo Bordeaux fair, in France. Surprised by the quality and profile of the wine, he decided that he should travel to Uruguay to learn first-hand about our viticulture. This is how for several years he dedicated himself to pursuing his goal, a pandemic involved. He was finally able to observe, taste and enjoy the world of Uruguayan wine at all levels.
For the journalist, Uruguay is a producer of excellent quality wine, not only in reds such as Tannat, Cabernet Franc, Marselan, Merlot, Petit Verdot, Pinot Noir, but also in whites such as Sauvignon Blanc, Chardonnay, Albariño, Viognier, Pinot Gray, among others. On several occasions he expressed his surprise at the variety of grapes found in Uruguay, as well as with the quality of the Albariño that is being produced nationally, and the new profile of Tannat vine wines.
"I sincerely believe that, on the worldwide scene of fine wines, Uruguay has many assets that it can be really proud of : more than a hundred and fifty years of wine culture and expertise, a deep knowledge of viticulture, a strong influence from the Atlantic Ocean and the Rio de la Plata that is an inestimable advantage for counterbalancing the effets of climate change, a wide array of grape varieties (including the iconic Tannat) and a tradition of hospitality and 'art de vivre' which is enough to attract wine lovers from all over the world"
On this occasion, 15 Uruguayan wineries from four different departments (Colonia, Canelones, Montevideo and Maldonado) welcomed him: Braccobosca, Los Cerros de San Juan, Narbona, Casa Tannat, De Lucca, Bouza, Pisano, Viña Progreso, Santa Rosa, Establishment Juanico, Spinoglio, Garzón, Sierra Oriental, Cerro del Toro and Viña Edén.
In the month of May, Terre de Vins will publish, by the hand of its journalist and within the "World Escapade" section, a complete article on Uruguay and the experience and opinion of Doumenge. Together, work is being done on future promotional actions together with the magazine and the Cité du Vin wine museum in Bordeaux, in order to consolidate and continue promoting and teaching about national wine.
Without a doubt, it will not be the first and only time that he will visit our country, since he wants to be able to continue getting to know the national wine sector in depth. After concluding his week in Uruguay, the French journalist expressed: "For me, the balance between ripeness and freshness, character and drinkability, respect of tradition and search for constant improvement, is the key to appreciate the wines from Uruguay, which represent the perfect blend between 'Old World' and 'New World' wines. I believe that these wines are just at the beginning of their long due recognition, and I am honoured to do my part with this week of meetings, visits and tastings."