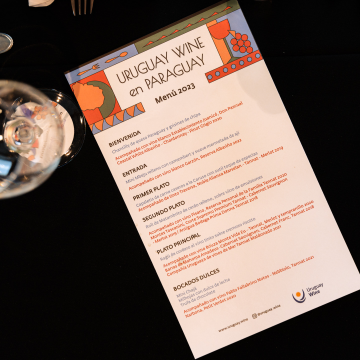 Expo Uruguay Wine Asuncion 2023
For the second consecutive year, Uruguayan wines were protagonists throughout the day on Friday, June 2 in the city of Asunción, Paraguay.
At the Sheraton Hotel in Asunción, Uruguay Wine held a lunch for 30 guests; journalists, sommeliers, importers and personalities from the world of wine in that country.
The appointment was at 12 noon in the Paraguay room on the 3rd floor of the prestigious hotel; The guests enjoyed 11 Uruguayan wines which paired perfectly with the menu of steps designed for the occasion.
The welcome was with a Chantilly made with Paraguayan cheese and chipá breadsticks, the starter a mini mbeju stuffed with camembert and soft chili pepper jam.
The first course featured homemade caruso-style meat capeletis with a subtle touch of spices, giving way to the second course, a roll of pork matambrito stuffed on an emulsion vitro. The main course consisted of a lamb ragù in red wine on a creamy risotto; and finally, the guests enjoyed some Uruguayan-style sweet bites, mini chaja, millefeuille with Uruguayan dulce de leche and chocolate truffle.
At 5:00 p.m., a masterclass for 60 guests took place, where 11 Uruguayan wineries presented their wine on the second floor of the Sheraton. On the occasion, those present learned a little more about our country and the diversity of Uruguay in its wines, not only in whites and reds, but also the varied profiles obtained from the different wine regions of the country.
In the evening, the Uruguayan wineries received more than 300 people interested in tasting and experiencing the 50 national labels presented there.
The meeting was held in the events room on the 2nd floor of the Sheraton Hotel, the Uruguayan wine fair received the public with a string of drums, where candombe, part of the traditional musical culture of Uruguay, accompanied the night, making the guests live an enjoyable experience with all the senses, not only because of the good wine but also beating to the rhythm of the fish market and wood from the River Plate.
On this occasion, the 11 Uruguayan wineries present were: Compañía Uruguaya de Vinos de Mar, Garzón, Barras de Mahoma, Familia Traversa, Antigua Bodega, Narbona, Pablo Fallabrino, Montes Toscanini, Pisano, Bouza and Familia Deicas.