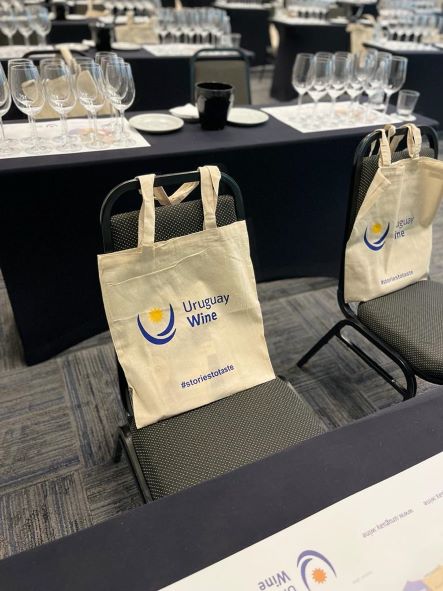 Brazil Tour 2022
From September 19th to 23th, Uruguay Wine events were held in 3 cities in Brazil.
It began in the city of Recife on the 19th, with the presence of 7 Uruguayan wineries: Familia Deicas, Alto de la Ballena, Pizzorno, Los Cerros de San Juan, Montes Toscanini, Garzón and Bodegas y Viñedos Santa Rosa.

The Gran Mercure Boa Viagem Hotel was the place selected to first hold a Masterclass aimed at the press and local trade, to then give way to a tasting and cocktail where the 100 attendees tasted the wide range of wines and chatted with the producers to learn more about the different wineries and their productions.

The second destination of this tour was in the state of Minas Gerais, Belo Horizonte was the chosen city.
The Espaço Meet received 21 wineries where two simultaneous Masterclasses were held for 50 people each. Once finished, an open tasting began, attended by 350 people who tasted Uruguayan wines from: Garzón, Alto de la Ballena, Artesana, Antigua Bodega, Pizzorno, Pisano, Viña Progreso, Dardanelli, De Lucca, Familia Deicas, Bracco Bosca. , Montes Toscanini, Los Cerros de San Juan, Marichal, H Stagnari, Piccardo, Cerro Chapeu, Cerro del Toro, Giménez Méndez and Familia Traversa.

On September 23 in the city of São Paulo, at the Blue Tree Faria Lima Hotel in Itaim Bibi, 4 Masterclasses were held, where Uruguayan producers presented their wines to more than 200 attendees.
On this occasion, 48 wines were presented by 21 Uruguayan wineries: Spinoglio, De Lucca, Garzón, Bouza, Familia Deicas, H Stagnari, Artesana, Alto de la Ballena, Montes Toscanini, Bracco Bosca, Antigua Bodega, Familia Traversa, Barras of Mahoma, Marichal, Piccardo, Los Cerros de San Juan, Cerro Chapeu, Casa Tannat, Cerro del Toro, Pisano, Viña Progreso.